You're worthy of everything this world has to offer.
That's the message I want to share with every teenager who has ever felt less than, been bullied, or thought their opinion didn't matter. Who feels like a failure, like their voice isn't heard and that things are too tough and they can't make it through. 

Hi, I'm Karina. My mission is to empower teens to grow into confident, resilient young adults. Through my online programme and one-to-one coaching, I help my clients:

 * Tackle stress and anxiety head on
 * Find their motivation
 * Become more organised at home and school


So they can become the person they were meant to be.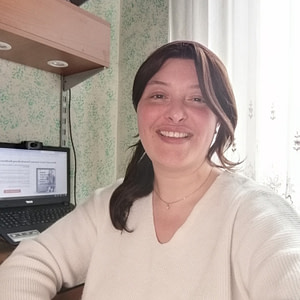 My teenage years were, to put it bluntly, horrible. I was bullied at school and at home. I went from being an "A" student in primary school to average results in middle school, then failing in high school.  All this because my mental health was declining. I felt lost and could see no way out of the situation. I was convinced I'd never grow, succeed, or achieve anything worthwhile with my life.
I received little to no support during those years. I was put down and treated like a failure. So I decided to become the adult I wish had been there for me as a teen, and offer support and guidance to those who need me most right now.
... Professional Background ...
As an Accredited Coach, I hold a Diploma in Life and Executive Coaching as well as a QQI Level 6 in Professional Coaching Practice and Ethics. I've spent over 20 years working with teenagers, helping them become the best possible version of themselves.
I studied Neuroscience and NeuroLinguistic Programming and apply it every day in my work. I am passionate about the science of the brain, and keep up to date with all the new research and discovery in that field.
I love to see my clients grow and bloom as they implement the tools and techniques I give them in their lives. The most bittersweet part of my job? The day my clients tell me they don't need me anymore and have everything they need to continue the journey without me. 


I am proud to do the work I do. Like The Starfish Story , I can't make a difference in everybody's life, but I do my very best to make a positive impact in the life of every teen I coach.
For coaching to be effective, a teenager needs to feel comfortable enough to share their struggles openly. I provide a warm, non-judgmental environment where my clients are free to be themselves.
3. Everything is Possible
Whether that's feeling comfortable to speak up in class, taking a test without crippling anxiety, preparing for a crucial college interview or simply making everyday life feel a little easier.
... What my Wonderful Clients Say about Me ...
My daughters confidence and self esteem has grown, she really enjoys the sessions with Karina every week It's very hard to put into words the change in my daughter. We would highly recommend Karina.
Karina is so easy to talk to and my son who is normally quiet reserved had no issues opening up. Thank you Karina for all your kind help.
Karina is an amazing life coach! I have seen first hand the positive results experienced by her sessions! I would highly recommend her.
Karina is a gifted and empathetic life coach with a rare combination of energy and focus. I would highly recommend KT Confidence Coaching and am still amazed by her abilities.
I highly recommend Karina's work. I felt very supported all along the coaching sessions and I'm now full of energy to start with my new life. Thank you so much Karina.
Karina's style was fun, engaging and interactive. I would have no hesitation recommending Karina.
Karina's coaching helped me work on things I've struggled with my whole life. Karina makes it easy for you to open up and to talk about your struggles. She gave me invaluable tools that I continue to use every single day. I can't recommend her enough!
It is so easy to be yourself in Karina's warm environment - highly recommend!
If you'd like to know more about how I work or just chat about what your teen and family are experiencing to see how I might help, then please do get in touch. You can arrange a Complimentary Discovery call by clicking below.