We are currently faced with a crisis like none of us had experienced before. Following the school-closure, the country moved to lock-down. The teens I'm working with all have the same preoccupation at the moment. They miss their family, their friends and going to school. The difficulty comes from uncertainty. We do not know when all this will be over.
More than ever teenagers need support and especially coping mechanisms to mind their anxiety.
7 SENTENCES YOUR TEEN NEEDS TO HEAR NOW
What I can control and What I cannot control
Due to the school-closure, anxiety levels at the moment are really high. They need to let it out in a healthy manner. Encourage them to make a list of everything that is currently creating anxiety for them. And you can do it with them as it is an exercise for the whole family to do together. They need to be able to freely express what is causing them stress. It is important not to keep it in and bottle it up.
Once they've let it out and you have a list, take a different piece of paper and draw a circle in the middle. Inside the circle write: I can control. Outside the circle write: I cannot control. Then for each element of the list, determine if it's something you can control or something you cannot control.
Use the illustration to help classify what you can control and what you cannot with examples. Then remember you are to focus on what is inside the circle only. So, whatever is outside your control is not for you to worry about as there is nothing you can do about it. On the contrary, focus on what you can control and take actions.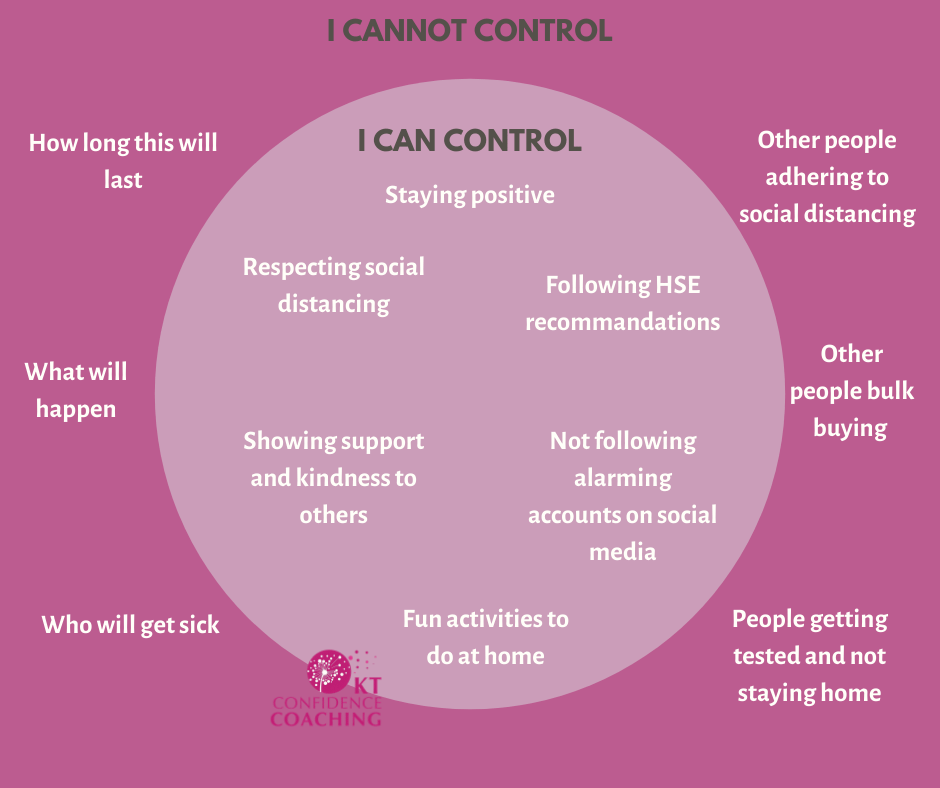 Daily routine scheduled
Teenagers need structure in order to better go about their day. They need to have a planned schedule. Again, it starts with a conversation. Ask them what they want their day to look like. What time do they want to get up? What time do they want to be done with school work? What do they want to have achieved at the end of the day? How many subjects per day do they want to study? What other activity do they want to practice during their day?
Most noteworthy, this is not your usual school time; this is home-schooling during a lock-down. So, we need to be aware of it and change the focus from Academic achievement to Minding our young ones. I would encourage you to not make them study more than three subjects per day. Two in the morning and one in the afternoon should suffice. It's important to add other activities such as the practice of a musical instrument, some creative activities as well as physical exercise.
You can use the illustration provided as a starting point to create your own daily routine.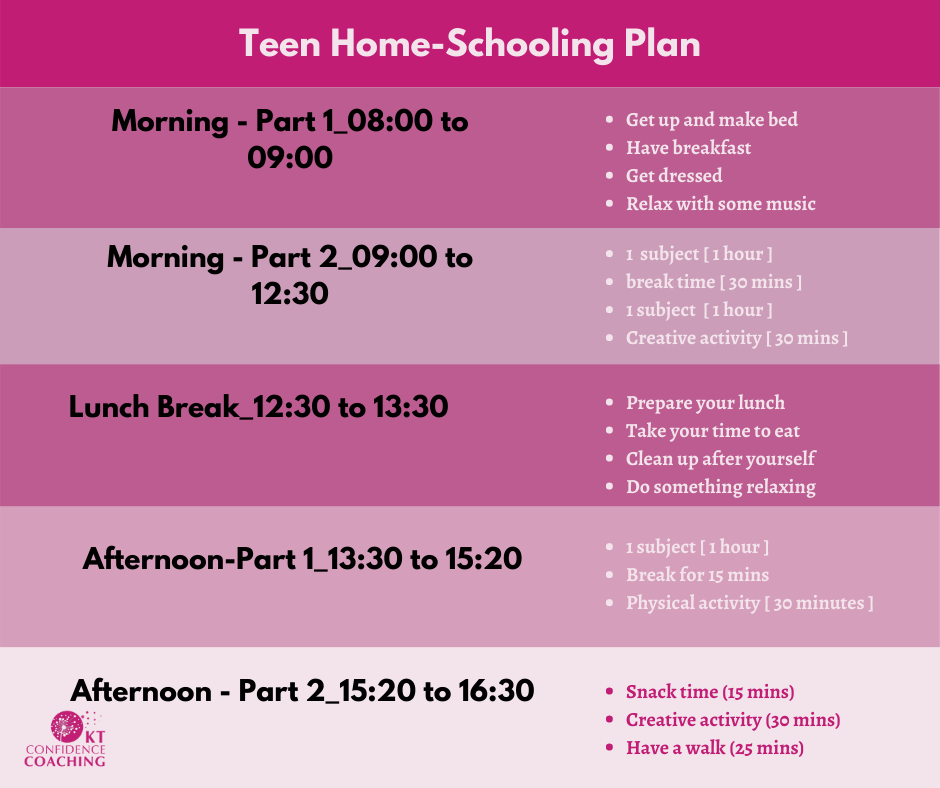 Keep their friends "close"
What about friendship. Humans are sociable creatures by nature. We need each other to feel safe. Your teen needs to vent about this situation. They need to be reassured that they are not alone in this mess. They need to interact with each other and share their experience. So as much as you don't' like them being on their smartphones, now is the time to encourage them to use it.
Hence, they need virtual play-date. Maybe they can be organised by the teen themselves directly. This way they can see their friends using video calls. This way they can see each other as they speak. Seeing each other's face is an important part here. The facial expression associated with the word they hear is the way they are going to be able to process better that they are not alone.
Consequently, you need to be able to access their phone and make sure they keep safe and only have apps that are used to interact with friends and family members. Make sure no stranger is contacting them there. It is a matter of balancing trust and safety. Whatever happens, remember you are the adult in the relationship and their safety depends on your capacity to step up when they cross the line.
Stay in touch with your family
I refer you to my previous article to get a creative way to stay in touch with your family during lock-down here.
7 SENTENCES YOUR TEEN NEEDS TO HEAR NOW
These are the few things you can put into place to help your teen make the best out of the isolation. Therefore, if you have any comments or questions, I'm very happy to read them.
If you wish to have personalised coaching for your teen, targeted especially for their needs, do not hesitate and book your Complimentary Discovery Call.